Judge Rick White retired in July, 2011, after almost 21 years as a District Court Judge. He doesn't call this stage of his life a retirement. Instead he calls it his "re-creation".
Starting eight years ago, Judge White began volunteering to serve as a mediator and arbitrator. He wrote the other judges and encouraged them to refer cases for "no fee charged" mediations and arbitrations. It was his desire to help people through a very painful life experience like a divorce or other legal problem.
Judge White worked with over 100 different lawyers and arbitrated or mediated over 350 disputes. More than 95 percent of the meditations successfully settled. Certainly, not all the clients are happy. Generally, the parties reported feeling of relief and satisfaction from the resolution and settlement of the case. Rarely does anyone report feelings of having won.
Judge White is now available to serve as a mediator, arbitrator, and discovery master on all legal disputes.
Recent Award: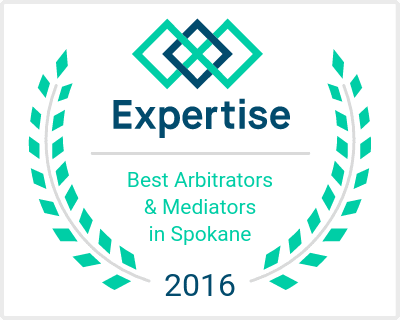 Professional Experience
Judge Rick White (ret.) served as a Spokane County District Court judge from January 1991 until retirement in July 2011. He was first appointed to the bench and reelected every four years thereafter.
He graduated with a B.A. Degree from Gonzaga University in 1973 and received his JD degree from Gonzaga University School of Law in 1980.
He taught Community Property (the study of assets acquired by spouses) and the Washington Practice course, Family Law section.He was awarded the Adjunct Professor of the Year award for three consecutive years by the Student Bar Association. Read More
Personal
Rick has been married to Frankie for almost 40 years. After a 33 year cared Frankie recently retired from the faculties of Gonzaga Prep and Gonzaga University. They have 3 adult son and two granddaughters who all live in Portland. Rick and Frankie have a home in Cannon Beach where they spend as much time as possible. Rick began accepting referrals for mediations and arbitrations on the North Coast of Oregon.
Philosophy
Ms. Laura Lifshitz, blogger, comedienne, ex-MTV personality, writer for the New York Times and Huffington Post once wrote this: " When people ask me if my divorce was amicable, I tell them it was peaceful."
I think that her response was pretty insightful. There is a difference between "amicable" and "peaceful". A divorce is a total dissolution of a relationship and sometimes, a family. Achieving a fair and peaceful end to a marriage is the goal of every mediation. I have the legal knowledge, experience, and personal communication skills to facilitate a peaceful and fair settlement of all of the property value, property and debt division, alimony, chills support, and parenting plan issues.
If you would like to meet me or simply talk to me about the mediation or arbitration process please feel free to call me at (509) 994-7462